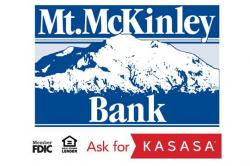 Controller / Audit Manager
2020-05-11 Mt. McKinley Bank 500 4th ave
Description:
Mt. McKinley Bank is hiring!
We are looking for a Controller / Audit Manager to join our team.
Position overview: Provides day-to-day management and oversight for all accounting activities of the Bank. Responsible for monthly financial reporting, quarterly regulatory reporting, and the annual financial statement preparation and coordinates annual audit process. Oversees the Accounting staff and all accounting functions in the department.
Essential Duties and Responsibilities:
Provides daily oversight of the general ledger to include daily monitoring and preparing and/or reviewing monthly reconciliations of internal accounts and financial reports.
Prepare and/or review the monthly financial statements for the board meeting and prepare the monthly tax/EIP calculation.
Responsible for the preparation of required federal and state regulatory reporting, including Call Reports.
Responsible for the quarterly Corporate tax calculations.
Responsible for the preparation of the annual Corporators meeting packet.
Responsible for the annual financial statement preparation, and coordinating the annual audit financial support documentation process.
Assist CFO with the preparation of the annual budget.
Serves as secondary staff to the Funds Management Committee (ALCO). Working with the CFO, ensures that the bank employs sound asset and liability management.
Have comprehensive understanding of bank policies with regards to investments, funding, and asset/liability management.
Ensures all investment transactions and accruals are properly recorded.
Assists CFO with the preparation of the Interest Rate Risk Management Report.
Ensures that the financial institution's accounting procedures are in compliance with generally accepted accounting principles.
Performs duties of accounting staff as backup when necessary and for ongoing training purposes.
Conducts employee evaluations, disciplinary actions, and interviewing of candidates for all accounting positions.
Completes annual risk assessment and audit schedule for the internal audit functions with assistance from other department managers.
Prepares Request for Proposal document every 5 years for the internal audit function. Acts as team member is the selection process.
Tracks internal audits, updates the audit schedule as necessary, and reports to the Audit Committee quarterly.
Complies with all applicable regulations and laws pertinent to banking.
Performs other duties as assigned.
Education and Experience Requirements:
Bachelor's degree in the Accounting, Finance, or equivalent.
At least 5 years prior managerial experience, preferably in the Accounting or Finance area.
At least 2 years prior experience as a Controller, preferably in banking environment.
Intermediate to advanced Microsoft Office skills, especially in Excel.
Please submit your resume via email or contact our HR department at 907-452-1751.
Do not contact this company in solicitation of any product or service.