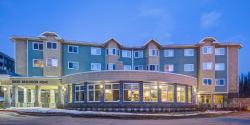 Caregiver/Resident Living Assistant
2022-05-18 Marlow Manor Assisted Living 2030 Muldoon Rd 15.00 hour
Description:
Caregivers Needed at Marlow Manor Assisted Living (Anchorage)
We are currently hiring for compassionate caregivers for vulnerable seniors in a beautiful assisted living setting. Certification not required for position, however if a caregiver does have current certification in the State of AK, after 90 days, you will receive a pay differential for that certification in addition to a potential merit increase with a positive performance review. CMA may apply if you have experience working in direct ADL care.

Experience working with Seniors is required, Dementia and Alzheimer's experience is preferred but not required.
INDIVIDUALS MUST POSESS A RESIDENT FIRST ATTITUDE!
Candidates must possess initiative and good judgment. Punctuality and attendance is very important.

Medical insurance paid by employer after 60 days, 401K after 1-year, paid vacations for full time employees. Employees are also offered one free meal per eight-hour shift. Background/Fingerprinting/Drug Testing and References are required. For consideration, please submit an application to:
Marlow Manor Assisted Living

2030 Muldoon Rd.
Anchorage, AK 99504
(907) 338-8708
FAX (907) 338-8627
Do not contact this company in solicitation of any product or service.